Declan Gabriel: PC cleared of rape to face police investigation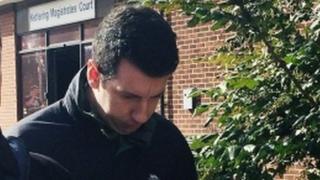 A police officer who was acquitted of raping a teenage girl is to be investigated by his force.
Declan Gabriel, an officer with Northamptonshire Police, was found not guilty of rape and two counts of sexual assault on 28 February.
The jury at Northampton Crown Court was discharged after failing to reach a verdict on a fourth charge of misconduct in public office.
The Crown Prosecution Service (CPS) has opted not to pursue a retrial.
PC Gabriel pleaded not guilty to all the charges.
Northamptonshire Police said the conclusion of the criminal case meant its professional standards department will now carry out its own investigation.
It will relate to events in the early hours of September 21, 2015 when PC Gabriel spent two hours with the teenage girl, who had been thrown out of her home.
'Demonstrable lies'
During the trial, he admitted talking to the 17-year-old about sex and becoming aroused while driving her to find somewhere to stay for the night.
His barrister, Steven Evans, had said the girl's evidence contained "several demonstrable lies".
The force referred itself to the Independent Police Complaints Commission (IPCC) on the date of the incident.
The following day the IPCC had advised a local investigation should be carried out.
Deputy Chief Constable Andy Frost said that following discussion with the CPS, Northamptonshire Police accepted the decision not to proceed with a retrial and would conduct its own investigation.