Toddler slapped in face in Waitrose car park by stranger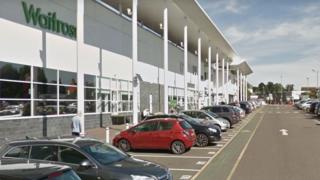 A stranger slapped a two-year-old girl in the face in front of the girl's mother, police have said.
The woman, in her 60s, approached the pair outside Waitrose, in Kingsthorpe, Northampton, and said the girl should be in her pushchair.
She then picked the girl up, put her in the chair, and slapped her around the face when she started to cry.
Northamptonshire Police appealed for witnesses to the attack, which happened at about 10:00 BST on 27 April.
The attacker is described as white, about 5ft 4in (1.62m) in height, with a slim build and black, frizzy, long hair.
She was wearing bright red lipstick, a black coat, black trousers and boots.