Northamptonshire County Council election result: Tories extend control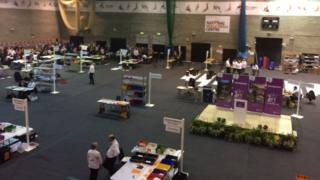 The Conservatives have increased their control of Northamptonshire County Council.
All 57 seats were contested, of which the Tories took 43, compared to the 36 they won in 2013.
Labour gained a councillor, taking their tally to 12, while the Liberal Democrats saw their number of seats fall from six to two.
There will be no UKIP representatives on the council - all three of their seats were Tory gains.
Turnout was up on 2013, at 33.7%.
Heather Smith, Conservative leader on the council, said: "I'm very pleased. We've exceeded our number from four years ago and our target of 40 seats.
"We expected turnout to be low because of the general election.
"I can't foresee a bigger majority will make a difference [to how we govern]. We have to work within a certain budget."
In Northamptonshire, the Conservative party gained 8,832 votes in the local election - 45.54% of the vote.
It is higher than the national projected vote share for the Tories, which stands at 38%.
'Severe cuts' warning
The Liberal Democrats suffered a major blow when their local leader, Brendan Glynane, lost his Delapre and Rushmere seat to Labour.
Asked about the increased Conservative majority, Mr Glynane said: "I think they will be emboldened by this.
"The finances are not sorted, there is nothing left in the bank and I think you will see some severe cuts."
As the declaration of results drew to a close, John McGhee announced he was to stand down as Labour group leader on the council.
Mr McGhee won his Kingswood ward, but said: "It's been extremely difficult watching the destruction of public services in Northamptonshire.
"I decided [to stand down] well before this election. I've been doing it so long. It has nothing to do with today's results."