Richard Coles hails civil partner a 'hero' after crash rescue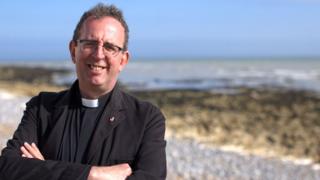 Celebrity vicar Richard Coles has hailed his partner a "hero" for freeing a man trapped in an overturned car.
The former Communards keyboard player said the Reverend David Coles came across the accident while on his way to see him being officially installed as Northampton University chancellor.
The ex-nurse smashed a windscreen and pulled the man out as fuel was leaking, Richard Coles wrote on Twitter.
"He was a little late for my installation #hero," he wrote.
As well as being vicar of St Mary's Church in Finedon, Northamptonshire, the former pop star is a well-known broadcaster, appearing on a host of panel shows as well as presenting BBC Radio 4's Saturday Live programme.
He was appointed chancellor of the University of Northampton University earlier this year and on Tuesday attended a ceremony to welcome him formally.
More news from Northamptonshire
However, his civil partner David did not make it in time as he stopped at the scene of an accident on the A45.
Richard Coles wrote on Twitter that after witnessing the crash, his partner smashed the windscreen to get to a "badly injured man" who he assessed for neck injuries and then pulled out of his upside-down car because there was fuel leaking.
David Coles responded by saying he managed to get to his celebrity partner's ceremony but after all that, "when I turn up, the photographer tells me I need to sort my hair out".
Northamptonshire Police and East Midlands Ambulance Service confirmed a man had been taken to hospital after a car overturned in a single-vehicle accident on the A45 in Northamptonshire at about 10:45 BST on Tuesday.