Adam Simmonds: No retrial for ex-PCC over MP police probe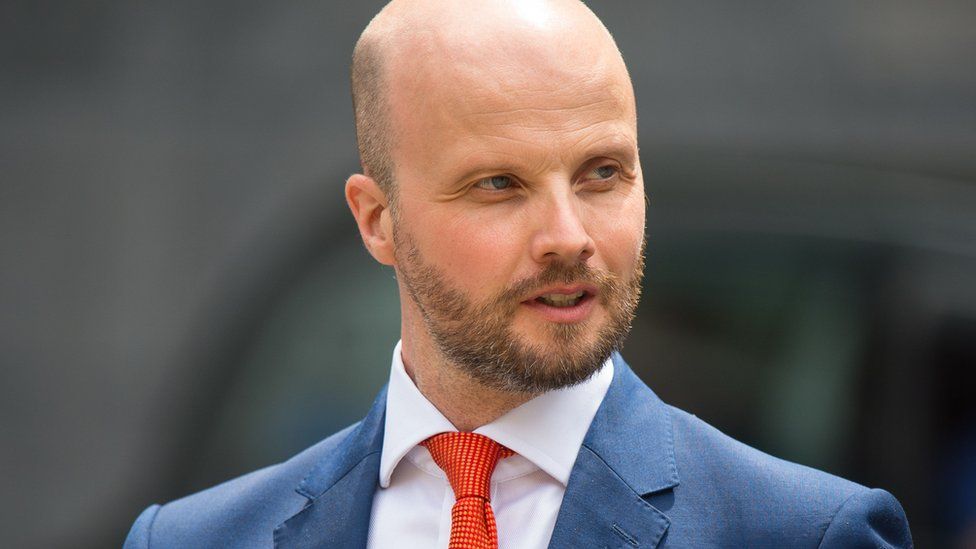 A former police and crime commissioner (PCC) accused of sharing confidential information about a criminal investigation into a Conservative MP will not face a retrial.
Ex- Northamptonshire PCC Adam Simmonds denied sharing details of a probe involving Wellingborough MP Peter Bone.
A jury was discharged after failing to reach a verdict in the case.
The Royal Courts of Justice heard it was "not in the public interest" for a retrial to be held.
"The CPS have considered the position very carefully and, for a number of reasons, have determined it is not in the public interest to proceed to a retrial, so I formally offer no evidence today," counsel Christopher Foulkes told the court.
Mr Justice Nicholas Green said: "I am happy to order and direct a not guilty verdict in the circumstances of this case."
Mr Simmonds said he "very much welcomed" the decision.
Mr Bone and his wife Jeanette had been under investigation over the payment of fees for the care of an elderly relative, the trial court heard.
The case against them was dropped in March 2014.
Prosecutors alleged Mr Simmonds disclosed information to friends and colleagues within the Conservative Party without the permission of Northamptonshire Police chief constable Adrian Lee.
Mr Simmonds, 40, from Leicester, said that if personal data had been disclosed, he had acted with the reasonable belief he had the right to do so, with the consent of the chief constable or in the public interest.
A jury of nine men and three women failed to reach a verdict on a single charge of unlawfully obtaining or disclosing personal data between 1 May 2013 and 1 May 2014, in a trial that lasted almost three weeks.
Related Internet Links
The BBC is not responsible for the content of external sites.