Stolen digger found abandoned in lake at nature reserve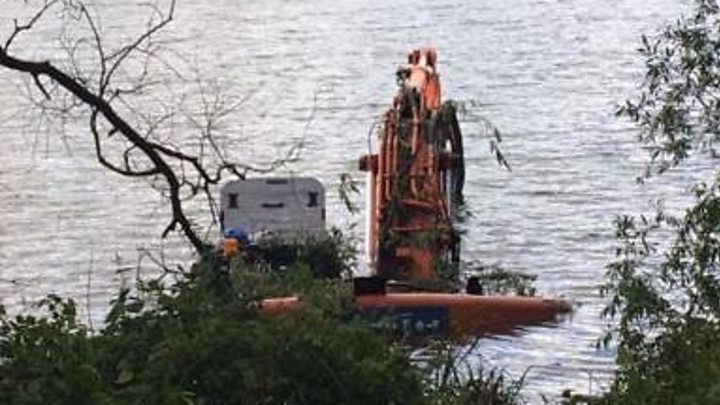 A digger stolen from a nature reserve in Northamptonshire has been driven into a lake and abandoned.
Police were called to Ebbw Vale Road between Irthlingborough and Higham Ferrers at about 07:00 BST to reports that a vehicle was in the water.
Efforts were being made to remove the Hitachi digger from the lake, which is part of the Irthlingborough Lakes and Meadows nature reserve.
It had been parked nearby and was due to be used to build a footbridge.
The nature reserve is run by the Bedfordshire, Cambridgeshire and Northamptonshire Wildlife Trust.
Reserves manager Jane Pearman said: "I had an email from a local volunteer who was walking his dog at about 07:00 to say there had been some vandalism.
"They'd smashed windows, taken one of the diggers - somehow got it started - driven into various trees, destroyed the handrail on one of the bridges, taken it around a lake and then into the lake.
"Unfortunately there is a strong smell of diesel, which is not a good thing to be in the lake, and we're trying to limit it getting any further.
"The Environment Agency have been contacted but the clear up is not an easy process."
The digger had arrived on the site on Monday and had been left in a compound along with a number of cranes and lifting equipment.
It was being used to help replace a bridge girder near the Rushden Lakes shopping centre and build a kilometre of foot and cycle path linking the reserves to Stanwick.