Storm Doris 'bite dog' Muppet 'not a public danger', police expert says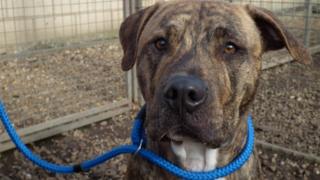 A dog facing destruction by police after allegedly biting four people during Storm Doris "does not continue to present a danger to public safety", the force's own expert has said.
Northamptonshire Police has applied for a Civil Destruction Order for Muppet after the attacks involving two dogs.
But his owner said none of the victims could state Muppet had bitten them.
In a document seen by the BBC, the police's expert witness described Muppet as "insecure and subdued".
Northamptonshire Police previously said letting the dog live was not a "safe option".
More news from Northamptonshire
Staffie-cross Muppet and a friend's dog Phoebe were in owner Jeff Penfold's garden in Duston near Northampton when the storm blew down a gate on 23 February.
The dogs escaped and four people were bitten, police said.
However, Mr Penfold said three people stated they had not been bitten by Muppet, and the fourth victim was not sure if it was him.
Phoebe was destroyed and 15-month-old Muppet was seized and placed in kennels.
Although no criminal charges have been brought, Mr Penfold was twice asked to sign a voluntary destruction order, but refused.
Northamptonshire Police has declined to make any further comment ahead of a hearing at Wellingborough Magistrates' Court on 10 October.
'Real lap dog'
Muppet was examined the day after the attacks by a police dog handler and trainer brought in by the force as an expert witness.
The officer, whose role includes providing guidance on the Dangerous Dogs Act, described Muppet as "insecure and subdued".
"I did not consider the dog's behaviour at any time to be that of a dog that continues to present a danger to public safety," he said.
However, Muppet was "in the presence of another dog" at the time and his behaviour may have been "influenced by other dogs within its environment", he concluded.
Muppet's owner Mr Penfold has not been allowed to see him since February and said he was "distraught".
The dog was "the most placid animal and a real lap dog".
'Save Muppet' petition
Muppet had "never shown any aggression", he said, and was regularly taken to a care home for people with dementia and walked by a young man with autism.
Police applied for the destruction order saying it was "proportionate... to avoid a criminal case for the owners".
The decision prompted a backlash on Facebook with hundreds saying it was wrong to punish the "frightened" dog, although some agreed the police response was the right one if the dog had bitten people.
A petition started on Friday to "save Muppet from destruction" has more than 4,700 signatures.
Mr Penfold said he would abide with any compliance orders including muzzling, but "just wants Muppet home".