Northampton moped crash: Man jailed for hitting boy, 3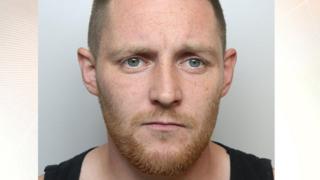 A moped rider who hit and seriously injured a three-year-old boy has been jailed for two-and-a-half years.
The child was playing outside a house in Derwent Drive, Northampton, when the crash happened on 12 June.
He lost teeth and needed surgery on his face, Northampton Crown Court heard.
Alan Day, 29, of no fixed address, pleaded guilty to causing injury by dangerous driving, failing to stop at the scene of an accident and driving without a licence or insurance.
The court was told the boy's mother had briefly left him alone to go back inside the house when she heard a loud bang.
When she returned she found her son motionless by the kerb and saw a cyclist driving away.
The youngster suffered a cut to the top of his head, lost four teeth and needed an operation on a split lip.
The court heard the boy had been left with facial scars, was distressed and still had nightmares.
'Significant' consequences
Judge Michael Fowler said Day had been riding around the King's Heath area off-road on a moped with a flat tyre and behaved "with a total disregard for safety of others and the rules of the road".
During sentencing, he told Day: "I recognise you do regret your behaviour but the consequences were significant for the boy and his family.
"This wasn't a glancing blow that knocked him to the ground but a significant contact with a vehicle you were driving.
Day was arrested after being named by people in the area and on social media - and detectives said at the time said that "emotions are running high in the community".
He was also disqualified from driving for three years.