Northamptonshire PCC fire service plans backed by public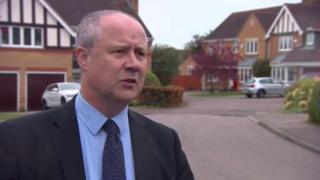 A police and crime commissioner could also take on responsibility for his county's fire service from January.
Northamptonshire's Stephen Mold has formally asked the government for permission after a "successful" public consultation.
Of 1,212 responses, 61% supported the plans but many people were concerned the combined workload would be too big.
Mr Mold said the move would improve efficiency at the two services and mean more money for fire and rescue.
He said: "I'm confident this proposed change in governance is in the best interests of everyone in Northamptonshire.
"The fire service in Northamptonshire has faced significant funding cuts for a number of years and it's my ambition to increase investment in the service, particularly in the frontline."
The public consultation report revealed although the majority of respondents supported the plans, half of the 700 comments were "negative".
The main concern was that the new police and fire commissioner role would be too much for one person to oversee.
Mr Mold said: "The reality is my role is a governance role, it's not actually to run it.
"You've got a chief constable who runs the police service and a chief fire officer, they have operational delivery.
"And I'm not just one person alone, I've got a really great team we've built up around us."
A business case to support the change said the transfer of power could start in January and be completed by April.
The Home Secretary is expected to make a final decision in the autumn.
Police and crime commissioners in other areas have also been considering the idea.
Essex's PCC is to become the UK's first combined police and fire commissioner in October.
The Fire Brigades Union (FBU) said the plans were "dangerous" when first proposed by government in 2015.