Silverstone Moto GP tip-off prompts theft arrests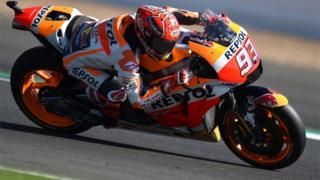 A group of men suspected of stealing thousands of pounds of goods from stalls at the British Moto GP have been arrested, police say.
Northamptonshire Police intelligence officers were tipped off by a member of the public at Silverstone.
A search of the men's hotel rooms found an "array of stolen goods" including baseball caps, jackets, and a framed picture of Spanish rider Marc Marquez.
Four men from Northern Ireland and one from Bangor are being questioned.
"We are grateful to the witness who made us aware and I'm delighted our officers responded so quickly to bring these men into custody," said Supt Chris Hillery, who led the police operation at Moto GP.
"The overwhelming majority of visitors have come to enjoy a great weekend of motorsport in Northamptonshire, but our officers on the ground are here to protect people from harm and to root out any criminality."
Three men from Belfast - aged 74, 54 and 58 - were arrested on suspicion of theft, alongside a 54-year-old from Londonderry and a 59-year-old from Bangor.