Daventry 'acid attack': Man arrested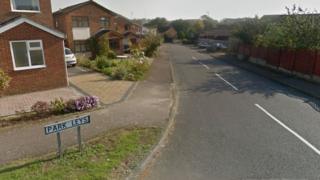 A man has been arrested in connection with a suspected acid attack on two people standing at a zebra crossing.
Northamptonshire Police said two men on a moped squirted a "noxious substance" at a man and a woman in Park Leys, Daventry on 26 August.
Police said the man, 23, was left with minor burns to his forehead, and the 19-year-old woman with minor burns to her leg.
A 23-year-old man was arrested in Vernon Close, Daventry, on Tuesday.
The arrest followed reports of a collision involving a moped.
An 18-year-old man and 22-year-old woman were also arrested at the same address on Tuesday.
All three were arrested in "connection with various offences, including theft of a motor vehicle, burglary, possession of an offensive weapon, drugs offences and obstructing the police", said police.
They are in police custody and the investigation continues.