Van on 'three wheels' wrecks 30 vehicles in Northampton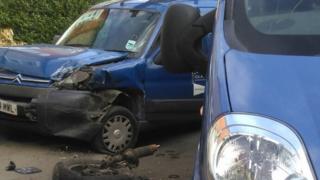 Police have arrested two men after 30 cars were damaged by a van being driven "erratically on three wheels".
It happened in Northampton on Thursday afternoon, with the worst damage on Oliver Street in the Kingsley area.
The van was later seen on Perry Street, Turner Street, St Michael's Mount and Henry Street before the men, aged 23 and 27 from the town, were detained.
A resident said: "The impact pushed cars on to the pavement; there could have been injuries or fatalities."
The resident, who did not wish to be named, added: "I was shocked. When it first impacted I thought it was going to come through the front garden.
"It only just missed next door's wall."
Many of the damaged vehicles were towed away overnight and police are appealing for witnesses to come forward.