Nut-allergy Kettering bride given almond cake on wedding day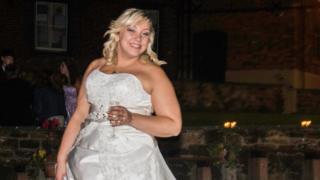 A bride with a nut allergy ate cake containing almonds on her wedding day despite caterers assuring her the reception would be nut-free.
Kayleigh Cortis, 23, from Kettering, Northamptonshire, suffered an allergic reaction after she was served the cake, not realising it had almonds in.
Impressions Caterers Ltd has been told to pay more than £3,000 by Trading Standards after admitting the mistake.
Mrs Cortis described the day as "a diabolical mess".
"Overall the day was ruined because I couldn't eat, or at least keep anything I'd eaten down," she said.
"I couldn't drink anything other than water and I was left being sick throughout the day."
In a statement, the company said it acknowledged human error on the day of the wedding and the complaint was recognised and lowered in court to an "unfortunate, one-off and isolated incident".
The couple got married at Hunsbury Hill in Northampton in September 2016, and requested several times their reception food should not contain nuts.
After the mistake occurred, Northamptonshire County Council Trading Standards carried out an investigation, resulting in the catering company admitting an offence contrary to the Food Safety Act.
"Usually I have an inhaler and antihistamines, but I didn't have any of those with me as I'd been assured all the food would be fine for me to eat," Mrs Cortis said.
"I didn't even think to check the cake. Minutes after I ate it, my lips started swelling and I was sick. I even had to take my wedding ring off as my fingers swelled up.
"It's a day you only get to do once, and what happened was appalling."
The firm has been told to pay £3,156.36, which includes a fine of £850, investigation costs and £85 victim surcharge fee.