Two arrested in Latimer Grange care home neglect inquiry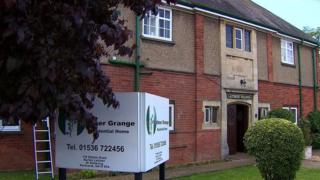 Two people have been arrested by police investigating allegations of neglect at a Northamptonshire care home.
The pair were detained after allegations that include criminal offences against current and past residents of Latimer Grange Care Home.
Insp Kev Wooldridge, of Northamptonshire Police, said safety of residents was their "primary concern".
Officers started looking into the care home in Burton Latimer following a BBC investigation in June.
The force and the county council said they were working to "safeguard" residents at the privately owned home, while detectives continue to investigate criminal matters.
Insp Woolridge, of the Force's Vulnerable Adults and Mental Health team, said: "We want the families of those residing at this care home to be reassured that the safety and care of their relatives is our primary concern and measures will be put in place to ensure these needs are met."
'Requires Improvement'
A council spokesman said the authority has been "closely monitoring the situation with fortnightly visits by our Quality Team".
"Council staff are now on site to support the staff to ensure continuity of care for all the residents," he added.
A recent inspection by the adult social care watchdog, the Care Quality Commission, was carried out as a result of the concerns raised.
It resulted in the home receiving an overall rating of "requires improvement".