Declan Gabriel: Rape case PC guilty of gross misconduct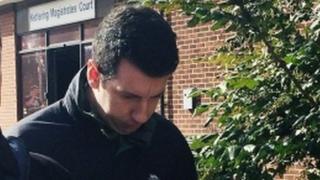 A police officer who unzipped his trousers and placed his hands in his underwear while alone with a 17-year-old girl has been dismissed for gross misconduct.
In February, PC Declan Gabriel, 28, was acquitted of raping the teenager.
A disciplinary hearing on Friday found he had "grossly breached the trust placed in him" as a police officer.
Northamptonshire Police Chief Constable Simon Edens said he "deeply regretted" how the girl had been treated.
Mr Gabriel did not attend the hearing or offer any mitigation.
The evidence heard was based on his testimony at Northampton Crown Court.
A jury found him not guilty of rape and two counts of sexual assault on 28 February. They failed to reach a verdict on a fourth charge of misconduct in public office.
The disciplinary hearing heard Mr Gabriel had picked the girl up in the early hours of 21 September 2015 following a domestic dispute.
Police solicitor Caroline Sellars said he had asked the girl about her boyfriend, whether they had sex and how often.
She said during that conversation Mr Gabriel had become aroused, something he had called an "unconscious reaction of his body".
'Evasive and contradictory'
The hearing also heard Mr Gabriel's supervisor had offered to accompany the officer and the girl to her grandmother's in Milton Keynes.
PC Gabriel had ignored this advice and instead tried to take her to her friend's house.
The hearing was told when that house was in darkness he drove past instead of knocking. He then parked up in a layby, where he unzipped his trousers and placed his hands in his underwear.
Ms Sellars said his actions were "wholly inappropriate".
Mr Edens said Mr Gabriel had been "evasive and contradictory" when questioned.