Northamptonshire County Council staff told to take unpaid leave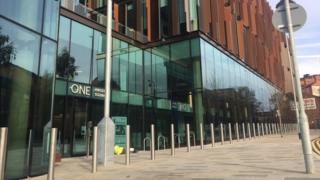 Workers have been told they must take a day's unpaid leave as part of a council's plans to save £2m a month before the end of the financial year.
Northamptonshire County Council employs 3,000 people and confirmed the move to staff on Tuesday in an email.
Interim chief executive Damon Lawrenson wrote the authority did not have "enough money to cope" with the costs and demands for services.
Unison said it was "extremely disappointed" by the announcement.
Regional organiser Mark Irvine said staff were already demoralised.
"The amount that will be saved by this proposal is 2% of the total the council needs to balance the books," he said.
"There are other ways to make this saving."
Council workers - but not teachers, firefighters or those earning under £18,500 a year - will need to take their mandatory day's leave by the end of March, with their salaries deducted over two, or possibly, three months.
Staff are also urged to consider taking extra unpaid holiday.
Mr Lawrenson said the council needed to find an extra £11.9m to balance its budget.
This is in addition to £9.6m of savings the Conservative-controlled council is already consulting on, which could include axing trading standards jobs, closing libraries and cutting subsidised bus fares.
The authority also needs to save a further £27.7m from next year's budget.
Mr Lawrenson took over the running of the council last month and told staff in an email seen by the BBC the council did not have "enough money to cope with the unprecedented demand and cost of our services" as there was a "wholly inadequate funding settlement from central government".