Animal ban for woman who used honey to treat cat's cancer wound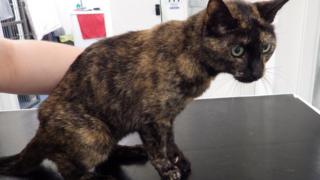 A cat owner has been banned from keeping animals for a year after attempting to heal her cancer-suffering cat with honey.
Denise Smith, 58, from Northampton, treated the cat's leg wound with manuka honey, believing it had healing properties, according to the RSPCA.
She was found guilty of causing unnecessary suffering to a cat at Wellingborough Magistrates' Court.
The animal - called Blacky - had to have its leg amputated.
The RSPCA said Blacky survived surgery and was successfully rehomed, but had to be put to sleep when the cancer returned.
Smith, of Axehead Road, Northampton, was disqualified from keeping animals for 12 months and ordered to pay £615 in fines during the hearing on Wednesday.
The court heard the RSPCA was contacted by a concerned member of the public on 30 August.
Insp Michelle Hare said she found the cat with a heavily bandaged leg.
"When we took the bandages off I could see that Blacky had a large and cancerous wound on her leg which was so deep it had gone down to her tendons," she said.
She said a vet recommended amputation.
"It turned out that Smith had been treating the wound with manuka honey, after reading online that it had anti-microbial properties - but it certainly isn't something which should have been used on a wound like Blacky had," she added.
Manuka honey is made from nectar collected by bees from the wild manuka tree, native to New Zealand.
An entry on the NHS Choices website says the effectiveness of manuka honey in combination with antibiotics has yet to be tested in clinical trials.
"People should not try using honey bought from supermarkets to treat wounds at home," the site reads.