Northamptonshire Police appeal over Vietnamese illegal immigrants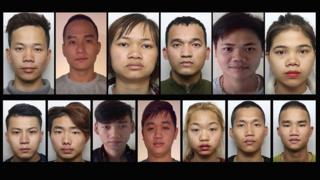 Help is being sought by police to track down 13 Vietnamese teenagers who entered the UK illegally.
Aged between 14 and 18, they were housed by Northamptonshire social services after coming to Britain in June and September, police said.
Northamptonshire Police said officers had worked with other forces, but had so far failed to find the teenagers
A decision has now taken to publicise the search and issue photographs.
Police said the three girls and 10 males had been placed in homes in Northampton and Corby, having been found in the back of a lorry in Corby in June.
'Covert approach'
Northamptonshire County Council declined to say what sort of accommodation they had been in or issue any comment of its own.
A police spokesman said the 13 teenagers "came into the country illegally" in the summer.
Officers had carried out a "co-ordinated and covert approach, targeting specific communities" to trace them, he said.
The force has not commented on whether the youngsters were trafficked or entered the UK of their own free will.
Det Insp Andy Rogers said: "One after the other they disappeared from their locations where they had been housed by Northamptonshire County Council.
"I don't believe they're all together - they left at different times [although] we do have a belief that the girls left together.
"Northamptonshire Police have completed a huge amount of work trying to locate these children, and so we're making this appeal for the public to assist us."
The missing teenagers are named in the order they appear in the photograph (top row, left to right, followed by bottom row, left to right):
Tung Anh Le, 18, missing from Northampton
Trong Nguyen, 16, described as 5ft 4in (1.62m) tall, missing from Northampton
Tran Tram, 17, described as 5ft 2in (1.57m) tall, missing from Corby
Quang Trong Nguyen, 17, described as 5ft 1in (1.55m) tall, missing from Northampton
Quang Dang Le, 16, described as 5ft 5in (1.65m) tall, missing from Northampton
Linh Nguyen, 17, described as 5ft 4in (1.62m) tall, missing from an address in Corby
Binh Van Hoang, 17, missing from Northampton
Ha Van Nguyen, 16, described as 5ft 6in (1.66m) tall, missing from Northampton
Ha Van Le, 16, described as 5ft 7in (1.70m) tall, missing from Northampton
Ho Sy Hoang, 16, described as 5ft 8in (1.72m) tall, missing from Northampton
Huyen Thanh Thi Nguyen, 16, described as 5ft 2in (1.57m) tall, missing from Corby
Khoa Anh Yu, 14, missing from Northampton
Lihn Van Nguyen, 15, missing from Northampton