Northants PCC Stephen Mold bullying claim dismissed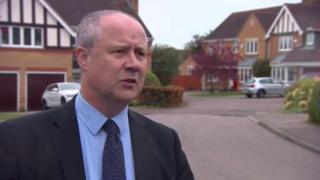 Accusations of bullying, harassment and intimidation against a police and crime commissioner have been dismissed.
Stephen Mold, Northamptonshire PCC, was also accused of misconduct in a public office and perverting the course of justice, claims not upheld by the region's Police and Crime Panel.
Mr Mold said he had "never actually met the complainant face-to-face or even spoken to them".
Full details of the complaint have not been made public.
'No substance whatsoever'
The Police and Crime Panel said the complaint was first recorded by a county council monitoring officer in June.
From there it was passed on to the Independent Police Complaints Commission but they referred it back to the panel, who were unable to substantiate the claims.
Mr Mold said: "It doesn't come as any surprise that the complaint was thrown out.
"It is rather frustrating that I had to defend myself against what were serious allegations, which had no substance whatsoever.
"It's absolutely right that there is a robust independent complaints procedure in place and that all complaints are properly investigated."