Budgie donated to Northampton woman after burglars stole pet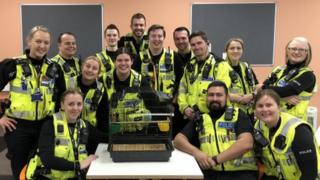 A woman who had her pet budgie stolen by burglars has had a new pet given to her.
The unnamed woman discovered someone had forced entry to her home on Rothesay Road, Northampton, and stolen the bird on 15 December.
PC Tor Lindsay contacted a friend at Northampton Pets who agreed to donate a replacement budgie ahead of Christmas.
The budgie was collected by police officers, who decided to call him "Craig", after their sergeant.
Craig spent a day at a police station before officers took him to his new home.
PCs Lauren Hall and Ash Price, who attended the woman's home after the burglary, said: "This lady was understandably very upset after her budgie had been stolen.
"We returned to the police station and told our colleagues what had happened and we all decided that we wanted to do something to try and go some way in helping her feel better."
Officers are continuing to appeal for anyone with information about the burglary to contact them.