Grieving Marks & Spencer customer 'now part of my family'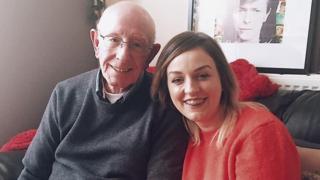 A shop worker has described how a lonely, elderly customer became "part of the family" within days of meeting.
Emma Freeman, 34, met Don Rothausen, 80, at Marks & Spencer in Rushden on 14 December and talked about the death of his partner five weeks earlier.
Ms Freeman said she cried after hearing he had "lost all enjoyment in life" and decided to track him down on Facebook.
They spoke by phone the next day, met for lunch and arranged for him to spend time with her family over Christmas.
The pair met at the Rushden Lakes store in Northamptonshire, where Ms Freeman was greeting customers.
Mr Rothausen told her his partner had died after spending 19 months in a care home with dementia and he planned to spend Christmas alone.
Ms Freeman, who has a partner and three children, said: "I'd lost my ex mother-in-law, who was like my mum, and I explained I was also grieving."
They chatted for about 20 minutes and - after he bought her flowers to say thank you - they said their goodbyes.
"I gave him a really big hug and I never thought I'd see him again but there was something in my heart - I felt sad, worried and couldn't stop thinking about him." she said.
That evening she decided to track him down and a post on the We Are Northamptonshire Facebook page was shared more than 2,500 times.
Several people came forward to say they knew Don and the pair were put in touch.
Ms Freeman said: "I'm so happy to have found him again and will never be letting him go again, he's part of our family now.
"There are so many people right under our noses who go forgotten.
"The greatest gift you can give anybody is your time."
Mr Rothausen said: "Putting aside my problems and just thinking about how sad I thought this lady was after her recent loss and, having that in common, I bought her some flowers just to cheer her up a little and to thank her for taking the time to talk to me.
"I just can't believe what has happened since.
"Apart from anything else, I have been adopted into a loving family. What more could you ask for at Christmas time?"