Northampton General Hospital to buy care home places to free up beds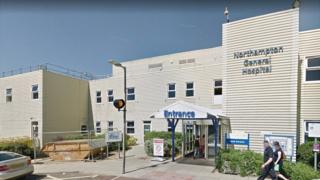 A hospital is to start paying for care home places for people waiting to leave the site in a bid to ease what it calls "severe" pressure on beds.
Northampton General Hospital said it needed to double the number of patients with complex needs who left the hospital each day.
Many patients are fit enough to leave hospital but are awaiting social care assessments from the county council.
The hospital said it would spend about £1m on the care home places.
It already pays for private beds for patients who still require hospital care, while Northamptonshire County Council pays to look after those assessed as needing social care.
However, under a new arrangement the council and hospital will share the cost of care home places for patients facing delays in being discharged, including those waiting to be assessed.
A council spokeswoman called it "an interim measure" because of "unprecedented winter pressures".
Dr Sonia Swart, chief executive officer of the hospital, said: "Once a patient has transferred to the care home, the home will assume responsibility for their care needs with GP support.
'Winter funding'
"Patients will still be able to exercise their right to choose a placement or care package of their choice while in their temporary care home."
She said it was hoped between 25 and 40 patients a week could leave hospital through this scheme.
The hospital admitted it did not yet know how the system would fully work, but said the fact the plan was needed showed how difficult the current situation was.
Dr Swart said: "There is severe pressure on the system."
This measure will be funded from NHS additional winter funding announced in the government's 2017-18 budget, a hospital spokeswoman added.
The scheme began this week and at present will last six weeks.