Northampton cat deaths not linked to Croydon cat killer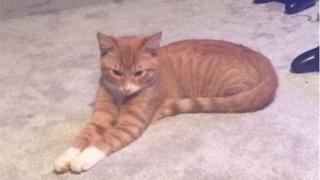 The killings and mutilations of five cats in the Northampton area were not the work of the so-called Croydon cat killer, police have said.
The Metropolitan Police was notified of the crimes as part of a wider investigation into hundreds of cat killings, which began in Croydon.
A man, 31, arrested in connection with the five cat killings and arson was released under investigation.
Police now say the Northampton deaths are not being linked to the others.
The suspect was detained in connection with cat mutilations and arsons in the Duston area and also offences in Kingsley Park, police said.
The offences took place between August and November.
"We are not linking this arrest to the incidents that have taken place in London," a Northamptonshire Police spokeswoman added.
Northampton cat deaths
28 August: Body of Rusty left in bag on owner's doorstep in Northampton
6 September: Cat Topsy left outside owner's home in the Kingsley area
7 October: Mutilated body of a cat found in Duston
13 October: Dismembered cat discovered in Duston
18 November: Cat mutilated and left on car roof in Northampton