Three jailed for Northampton McDonald's ammonia attack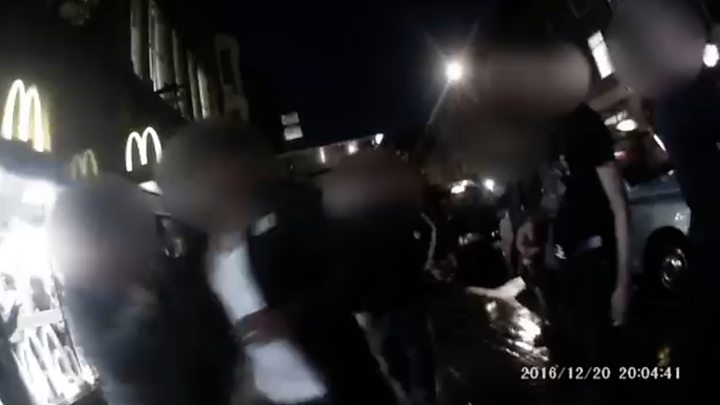 Three gang members who threw ammonia into a crowd outside a branch of McDonald's have been jailed.
The trio launched the liquid into the group after a confrontation with a rival in one of the fast food giant's outlets in Northampton.
Four people, including two female police officers, were hurt.
Jake Price, 22, and Ijuha Stirling-Campbell, 21, were jailed for 34 months while Frank Taylor, 25, was given a 33-month term.
The three men, from Wellingborough, admitted using a noxious substance with intent to cause harm.
'Running from scene'
Members of the TRU gang were on a night out when they spotted a rival gang member in the burger chain, the court heard.
After a confrontation, the three men went away and armed themselves with ammonia - which can cause serious tissue damage and skin burns - stored in a plastic bottle.
They returned to attack the rival in the early hours of 23 July, and threw the substance into a crowd outside McDonald's.
There were at least 30 people, including eight police officers, outside at the time.
Police body-worn cameras showed people running from the scene and one woman who was unable to open her eyes because of the pain.
Sentencing, Judge Adrienne Lucking said: "The background and the root cause of the incident is gangs. The public are entitled to feels safe at night, safe from gangs.
"[One victim] has panic attacks, is taking medication for panic attacks, it has had an effect on her personal life, her private life and she potentially faced losing her job because she couldn't cope with the public any more. In any event she suffered a profound impact."
Judge Lucking added that there must be a "deterrent element" to the sentence and that it was aggravated by a "significant degree of premeditation".
A fourth man - Taishon Whittaker of Northampton Road, Ecton - was previously cleared of four counts of administering a poison or noxious substance.