Lego-clad toy shop brings overseas visitors to Rushden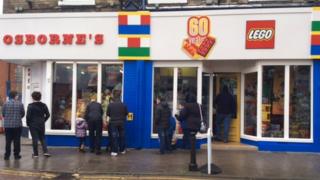 The owner of a family-run shop which was covered in Lego for the toy's 60th birthday has said people came from as far as France to see it.
Osborne's in Rusden, Northamptonshire, was the first British retailer to sell the bricks.
Lego offered to give the shop front a makeover with 277,500 bricks to mark the anniversary last weekend.
Will Osborne said: "It was like a carnival, with people outside from dawn to dusk taking pictures and pointing.
"I was talking to one chap who came from Norwich and one guy apparently came from France - obviously a Lego fan who thought he would never see this again.
"It was a feel-good event for the town and was good, not just for us, but businesses up and down the high street."
The shop's door, signage and part of the outer walls were covered in the toy bricks.
It took 41 people to create, but was only there for three days before being dismantled earlier this week.
Virginia Pope, who lives in the town, said: "It was absolutely fantastic for Rushden, it is just a shame it was not there for longer."
Pam Osborne and her late husband Jim opened the shop in 1955 and placed an order for Lego after seeing it at a trade fair while on honeymoon in Brighton in 1960.
Their son, Will Osborne, said events like this help to highlight what businesses like his have to offer.
"It's no secret the retail landscape is changing and you do your best to keep up, but it's difficult sometimes.
"Small, independent businesses have their own peculiarities and personalities which shine through and offer what the big chains can't.
"Running a toy shop is a joyful profession and I have no plans to retire yet."