Teacher Martin Myers put his sock in boy's mouth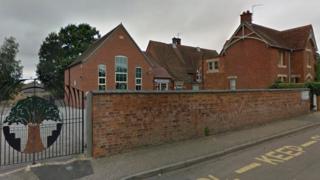 A primary school teacher accused of putting his sock in a boy's mouth and giving pupils answers during exams has been banned from teaching.
Martin Myers, 47, taught at Ecton Village Primary School in Northamptonshire between 2010 and 2015.
He denied all the allegations and decided not to attend a professional conduct panel.
But it concluded his conduct "fell significantly short of the standards expected of the profession".
A member of staff raised concerns that the teacher had assisted year six pupils during national curriculum exams, often known as Sats.
Numerous children told an investigation he gave them the answers to a maths paper and a spelling test.
'Put a sock in it'
Mr Myers stated during the school's disciplinary process that he "always had the best interests of the children as my first concern".
He was also accused of telling pupils to ask their parents to write letters to save his job before he was dismissed.
The panel was told of another incident where Mr Myers is said to have told a pupil to stop talking during a reading lesson.
The boy said the teacher told him to "shut up" then took off his shoe and put a sock in his mouth, leaving him feeling "embarrassed".
Mr Myers claimed he had only thrown the sock across the classroom, telling the pupil to "put a sock in it".
The panel found all the allegations to be proven and its report said: "The findings of misconduct are particularly serious as they include a finding of maladministration of Sats exams and dishonesty".
He was banned from teaching in any school in England for at least five years.