Cold water 'poured over' homeless woman in Northampton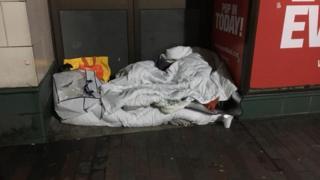 A homeless woman could have frozen to death after a bucket of water was poured on her, a volunteer group said.
Helpers found the woman in freezing temperatures "shivering and her teeth chattering" in Northampton town centre on Sunday evening.
Northants Street Angels said it had exchanged her wet bedding and clothes and paid for her to stay in a hotel while she recovered.
Police said the incident had not been reported.
As first reported in the Northampton Chronicle and Echo, the group posted on Facebook that a "vile excuse of a human" had poured water over the woman behind a furniture shop on Abington Street.
It said: "As we worked in the cold tonight we could literally hear her shivering and her teeth chattering in the freezing temperatures.
"This young lady could well have frozen to death... and is clearly not very well with a very bad chesty cough."
Comments on the post described the incident as "heartbreaking" and a "serious assault".
The group said it had provided the woman with three nights in a hotel and an online appeal for £300 to extend her stay raised more than £700.
Rough sleeping in England has increased for the seventh year in a row, official figures revealed last month.
There were 4,751 people counted or estimated to be bedding down outside in autumn 2017, a 15% rise on the year before and more than double the figure recorded five years ago.
The government said it was investing £1bn to tackle rough sleeping.