Cupid cop helps elderly man make Valentine's card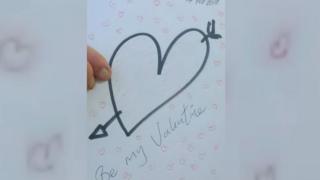 A police officer played Cupid by making a Valentine's Day card for an elderly man who could not afford to buy one for his wife.
John, 74, regularly chats with officers in Northampton, but when he told them he had not got his wife of 16 years a Valentine's card, they offered to help.
"It was cold, so we took him for a cuppa and drew the card," PCSO Andy Emberton said.
John, who struggles to write, was able to sign the card himself.
'Romantics at heart'
"I was about to take my break so I invited him back to our community hub for a cup of tea and to get warm," PCSO Emberton, 48, said.
They began talking about Valentine's Day but John said he had been unable to get a card.
"We're all just old romantics at heart. He doesn't have a lot of money, so I said we could help by making one, as we had paper and a few pens to hand."
John, who has medical issues with his hands that make it difficult for him to write, agreed and they made the card, complete with love hearts and an envelope.
Together they came up with a rhyme that said: "Roses are red, violets are blue, I will always love you."
"John wanted it to be traditional - he was very happy with it and took it home to his wife," PCSO Emberton added.
"John's a lovely chap and this is just one of the things we do to help.
"But if it happens again, we could do with donations of more pens as we really didn't have enough colours."