Liam Hunt: Stab death teen 'had been in fight with accused'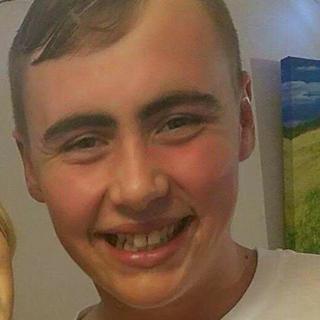 A teenager who was stabbed to death had been in a fight with one of the men accused of killing him, a court heard.
Liam Hunt, 17, was killed during an attack in St George's Street, Northampton on 14 February last year.
His former girlfriend Caitlin Tate told Northampton Crown Court he had been in a fight two days earlier with defendant James Dodd, 19, of Sentinel Road.
Prosecutor John Lloyd-Jones said Mr Dodd had later messaged a friend saying "my boys will stab them".
Mr Dodd is one of five men and two boys who deny murder.
Three others are from Northampton - Kane Allaban-Hamilton, 18, from Pleydell Gardens, Delapre; Lee Warren, 18, from Queen's Park; and Derice Wright, 18, from Abington.
The other man is Aaron Joseph, 21, from Hylands Road, Walthamstow, east London. Two 17-year-olds cannot be named for legal reasons.
Ms Tate, 19, told the court she had been drinking at her house with Mr Hunt and two other friends, Ross McAllister and Paul Rennie, in to the early hours of 12 February and they went to the town centre to get something to eat.
She said a "very drunk" Mr Hunt had got in a fight with a "guy in a red jacket".
Ms Tate said the man had sworn at a taxi driver, but Mr Hunt had thought he was swearing at her.
She told the court she had tried to stop him, but "he wasn't scared of fighting anyone".
Ms Tate said Mr Hunt then encountered Mr Dodd, who had been walking through the town centre shouting "I want to have a fight tonight".
'Booted him'
She said Mr Hunt had accepted the challenge.
The court heard the fight ended when Mr Rennie "rugby tackled them both" and "booted him [Mr Dodd] in the face".
Mr Lloyd-Jones said Mr Dodd sent a series of messages to friends the following morning including one which said he "got jumped by three guys on Drapery".
In another he said: "My boys will stab them."
The trial continues.