EU arsenic warning over magnetic putty children's toy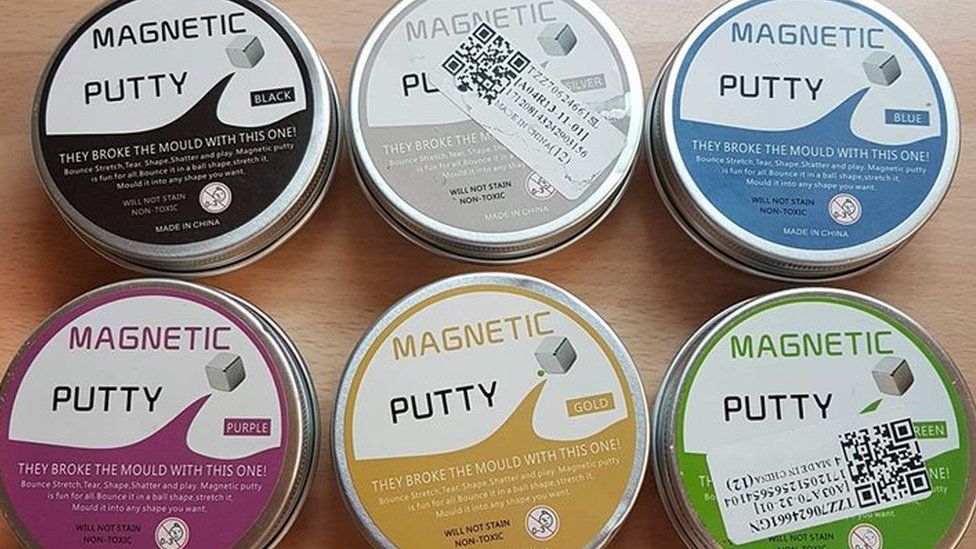 An EU-wide warning has been issued over a children's toy feared to contain dangerously high levels of arsenic.
The "Magnetic Putty" toy was banned from sale by Northamptonshire Trading Standards (NTS) who found it had seven times the permitted amount of arsenic.
NTS discovered the toy on a market stall in the county and, as well as a high level of the poison, the included magnet was found to be 29 times over the allowed magnetic force and could be "easily swallowed".
It only banned this one particular type of magnetic putty, which did not include a CE mark to show it complied with the essential safety requirement for toys and also had twice the permitted amount of lead.
NTS has been unable confirm the supply chain of the putty because of a lack of traceability, but other brands were being tested.
Its warning states: "Arsenic is toxic and exposure to lead is harmful for human health and can cause developmental neurotoxicity.
"If a child swallows this small magnet and other metallic objects, they could attract one another causing intestinal blockage or perforation."
A spokesman for Northamptonshire County Council said: "Trading Standards officers would reiterate the advice that if they have this particular type of magnetic putty to stop using it.
"Any parents with health concerns about a child should consult their doctor."
Earlier this month, a warning was issued for another magnetic putty, branded "Peanfun", over fears of choking on the magnet.