Northamptonshire County Council: Spending ban savings 'insufficient'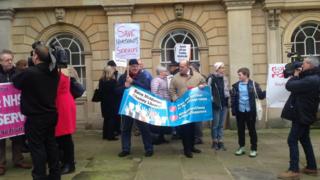 A spending ban imposed on a council has yielded "insufficient" savings to balance its budget, a meeting heard.
The section 114 notice banning most new expenditure at Northamptonshire County Council will continue for the rest of the 2017-18 financial year.
The council had been due to fix its 2018-19 budget on Thursday, but auditor KPMG warned it may be breaking the law.
Chief financial officer Mark McLaughlin said the financial situation in the county is "the worst in England".
A report on the section 114 notice by Mr McLaughlin was accepted by councillors at a meeting at County Hall.
It means the spending ban will remain in place until the end of the financial year on March 31.
Mr McLaughlin said the financial situation at the council, where he projected a £21.1m overspend for 2017-18, is the worst he has seen in 30 years in local government.
Liberal Democrat leader Chris Stanbra said opposition councillors had not been told how much money the section 114 notice has saved to date.
Conservative council leader Heather Smith said current savings were "insufficient for us to reach a balanced budget".
The authority also discussed an advisory note issued by auditor KPMG which says the budget for 2018-19 does not add up.
Mrs Smith said there would have to be a "further reduction in spend on a number of services" to reach a balanced budget for next year.
Next year's budget must be set by 11 March, while council tax must be set by 1 March. The council will meet again to discuss new proposals on 28 February.
Responding to calls for her to resign, Mrs Smith said: "Even though my feet are standing well and truly in the fire it is not the time for me to run away."