Northamptonshire County Council: £10m public health grant probe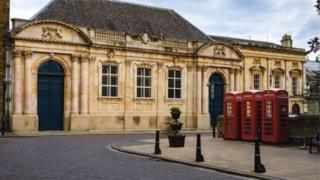 A council dubbed the "worst-run in the country" is under investigation over allegations it used millions of pounds ring-fenced for public health to prop up other services.
Northamptonshire County Council is in talks with Public Health England about the possible "claw-back" of up to £10m.
It comes after the authority voted for almost £40m in budget cuts.
Conservative council leader Heather Smith said the money "may have been spent in adult social care".
She added: "It is debatable whether that was a public health need or not."
The county council received more than £70m in funding from Public Health England over a two-year period.
It was meant to be used only for specific purposes, such as health education and smoking cessation services.
A county council spokesman confirmed discussions with Public Health England were ongoing around "how the public health grant was used within public services" during 2015-16 and 2016-17.
Mrs Smith said any repayments would be staged over a number of years.
The news was disclosed to councillors by officers during closed-door sessions in the run-up to the recent budget, which approved cuts to library services and bus subsidies.
Mrs Smith said the money "may have been spent in adult social care, looking after people in some way or another".
Opposition Labour finance spokesman Mick Scrimshaw said: "Everybody knows the county council has financial problems and in particular around the issues of funding for adult social care, but it beggars belief."
He said councillors were not given specifics regarding "the allegations of misspending," but were told the amount involved may be "significantly more" than the original figure of £10m mentioned.
Last month, the county council brought in a section 114 notice preventing all new expenditure in 2017/18, except on services for the most vulnerable.
Kettering MP Philip Hollobone told the House of Commons the issuing of the notice meant Northamptonshire "becomes the worst-run in the country".
"Whether that decision was right or wrong will come out," she said, but added that the money "wasn't misappropriated".
"At the end of the day it's still being spent on the people in Northamptonshire," she said.
Public Health England confirmed talks were taking place with the council, but added it could not confirm the sums involved "until discussions are concluded".
The director of public health in Northamptonshire between May 2013 and April 2017, Dr Akeem Ali, said there were attempts to access public health money by other departments within the county council "without using the application process".
'Open and transparent'
He added: "I did not sign off inappropriate use of Public Health Grant while I was director of public health."
Papers for the county council's cabinet meeting on Tuesday show the authority is planning to bring its outsourced public health delivery vehicle, First for Wellbeing, back in-house.
One reason given for this is that Public Health England is "reviewing the historic and current use of the Public Health grant".
A county council spokesman said the authority was unable to confirm who authorised for the grant to be spent on other services "while discussions are ongoing".
He added the council's new director of public health and Public Health England "are being full, open and transparent with each other," but said he could not provide detail publicly on the amount of money involved.