Northamptonshire council chief appointment 'lacked transparency'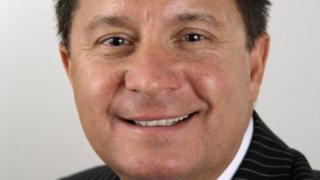 The appointment of a £1,150-a-day interim chief executive at a cash-strapped council "lacked transparency", a union has claimed.
Damon Lawrenson was given the role at Northamptonshire County Council "too quickly", Unison said.
The Conservative-run authority banned nearly all spending and has been labelled England's "worst-run council".
The council said the position was not advertised but the appointment ensured a "quick and efficient transition".
Northamptonshire branch secretary for Unison, Penny Smith, has now criticised the recruitment process, saying it was not "open or transparent".
She said she remained "confused" about why Mr Lawrenson was put in charge in October.
He had previously been the council's finance director and Ms Smith said the process happened "too quickly".
"He must be in some way culpable for the mess we are in," she said.
The council has blamed "historically-low reserves, heavy reductions in government funding alongside soaring demand and costs in social care" for its financial position.
Northamptonshire County Council's financial crisis: A timeline
Chris Stanbra, leader of the Liberal Democrat opposition, said Mr Lawrenson was appointed to the role "because of the haste" with which Dr Blantern left.
"It is ironic Mr Lawrenson is a highly-paid consultant when officers are telling councillors expenditure on consultants is being actively and deliberately reduced," he said.
Mr Lawrenson was the council's interim group director of finance from July 2016 to October last year.
A Local Government Association report criticised the authority for having "very optimistic" financial plans when he was in the post.
Damon Lawrenson's contract as interim chief executive
Mr Lawrenson is employed until June through his company, DDL Consultancy
He is paid for days he works and not eligible for sick pay, holiday pay or pension contributions
He has worked an average of four days per week, meaning he will receive about £230,000 per year
The council estimates his pay will not be "significantly different" from the amount Dr Blantern would have received, including on-costs such as pension contributions
No extra money is paid to Mr Lawrenson's company
Source: Northamptonshire County Council
Mr Lawrenson was first employed at the council between June 2008 and February 2011 as assistant chief executive finance and assistant chief executive.
During that time, the authority took out four of 19 bank loans, known as Lender Option Borrower Option (LOBO) loans, described by financial experts as "toxic".
Another, taken out in 2010, comes with an interest rate of more than 11%.
The authority said the LOBO loans were commonly used by councils and were not considered "toxic" at the time. It added they were deemed appropriate and endorsed by full council.
In 2011, after leaving the authority following his first stint, Mr Lawrenson wrote in The Guardian that he had "transformed" its financial position and left behind "a legacy of financial stability".
On his LinkedIn page, he references "successfully navigating" a note from auditors KPMG, saying the authority was in danger of passing an unlawful budget, and "implementing improvements" following the LGA peer review report.
The council spokesman said: "Damon's appointment was interim to ensure a quick and efficient transition from the previous chief executive in advance of a permanent appointment. Damon was already an interim and so continued with the engagement.
"His engagement as finance director was coming to an end after a permanent appointment was made for December 2017.
"Although the interim role was not advertised internally or externally, discussions did take place with cabinet members, senior directors and local government colleagues."