Northamptonshire 1998 Easter flood fear 'never goes away'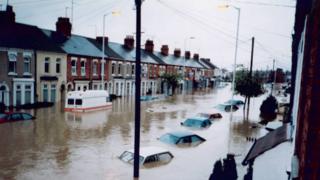 A woman has told how the carpet of her home "rippled" as it became submerged under flood water 20 years ago.
Early on 10 April 1998 - Good Friday - the River Nene burst its banks after Northamptonshire received a month's worth of rain in just 24 hours.
About 2,500 properties were flooded in Northampton alone and two people in the town died.
Northampton resident Betty Adams said the fear that a huge flood could happen again "never goes away".
"It only takes one storm and I'm backwards and forwards to the window," said Mrs Adams, who lives in the same house on St Leonard's Road with husband Derek.
Speaking from the living room of the same home two decades on, Mrs Adams recalled her husband was working on a late shift when she noticed there was no let-up in the downpours outside.
"I was watching the rain and had phoned his firm. I was told 'don't worry, nothing bad is going to happen'."
But by the time he returned home, their home was being lapped by murky flood water.
"We started to put things up on the tables - televisions, chairs. The footings were obviously full and the carpet was rippling. A horrible sensation.
"It was coming in, so we went upstairs. We sat on the top of the stairs, watching all of this happening."
The water eventually reached the fifth step.
"I kept hearing things bump. We later found out it was everything we had stacked up falling."
The Adams' were later rescued from their home in small boats operated by the fire and rescue service.
On Maundy Thursday 1998, more than 75mm (2.9in) of rain fell on parts of Northamptonshire - well over the monthly average of 49mm (1.9in).
Despite the heavy rainfall, the Environment Agency only issued flood warnings for the high risk areas of Kislingbury, Weedon and Billing. But much of the county town, including Far Cotton and St James, was submerged by water.
An investigation into the Easter 1998 floods found that many storm drains were blocked with rubbish or overgrown.
There was also uncertainty over who was responsible for their ownership and upkeep.
It cost more than £75m to repair the damage across Northamptonshire.
What happened in Easter 1998?
On 9 April 1998 (Maundy Thursday), more than a month's rain fell on already sodden ground in Northamptonshire in a day
4,200 properties were flooded the next day - 2,500 in Northampton - as towns, villages and agricultural land were deluged with flood water
The damage in the county was valued at £75m
Two people died and 150 people were treated in hospital for flood-related injuries and hypothermia
The worst flooding was in the St James and Far Cotton areas of Northampton, which had not been predicted
Much of the water had receded by Easter Sunday, but it took affected residents months to move back into their homes
Northampton now has some of the best flood defences in the country
Sources: Northamptonshire County Council / Environment Agency
On the other side of the breached River Nene through Northampton, a woman died when her home was deluged with water.
Frances Fisher, who was 82, lived in a flat at Stirrup House in St James and drowned.
At South Bridge, another woman died when she was swept off her narrowboat.
Weedon, Kislingbury and Thrapston were also badly affected by floodwater.
Ben Thornley, the Environment Agency's flood prevention manager for Northamptonshire, said the flooding of 1998 was "devastating", but £20m has since been spent improving defences in the county.
Sirens installed in some areas after the floods are now being phased out, with flood warnings instead being issued through text messages and email.
"There will be big floods in the future. We can't say when, but we know there will be, so these defences we hope will protect... but there is always a chance you get a bigger flood than the defences are designed for," Mr Thornley said.
As for Mr and Mrs Adams, they are not planning to move away any time soon.
"You don't move away. This is our home, we've been here since the 9th May 1960," said Mrs Adams.
"Everything in our married life is here. You can't just up and move.
"But the fear never goes away."