'Ideal for newborn babies' buggy advert banned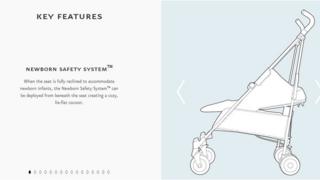 A "misleading" advertisement which claimed a pushchair was "ideal for newborn babies" has been banned.
A listing on manufacturer Maclaren's website said its Quest buggy had a "full recline four-position seat".
The Advertising Standards Authority (ASA) said a baby would only be able to "lie flat" if a separate accessory was bought, which was not made clear.
Northamptonshire-based Maclaren said it was "fully compliant" with European standards for newborn baby products.
An ASA ruling said the product description implied it could fully recline to 180 degrees.
The company acknowledged the seat could only be reclined to 153 degrees, but was compatible with a "lie flat carrycot," which could be bought separately.
The NHS website states that buggies are only suitable for young babies if they have "fully reclining seats, so a baby can lie flat".
However, European and British standards say a pushchair is suitable for use from birth if the seat reclines to an angle of 150 degrees or more, which the Quest model does.
But the ASA ruled the company's description was "misleading and unduly emphasised the buggy's suitability for very young babies because the buggy did not offer a lie-flat environment".
"We therefore concluded that the claim 'ideal for newborns' was irresponsible," it said.
The company, based in Long Buckby, was told it must not state that the product reclined fully or was "ideal" for newborn babies.
You might also be interested in: