Northamptonshire 1998 Easter flood 'could happen again'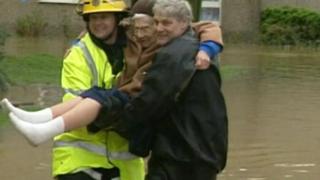 Northampton's flood defences are not strong enough to protect it from another major flood, according to the Nene Flood Prevention Alliance (NFPA).
The Alliance was set up in the wake of the Easter floods 20 years ago.
Thousands of homes were affected and two people died after the River Nene burst its banks on 10 April 1998.
Pete Reilly, from the Environment Agency, said Northampton has the best flood defences outside London, but admitted "there are no guarantees".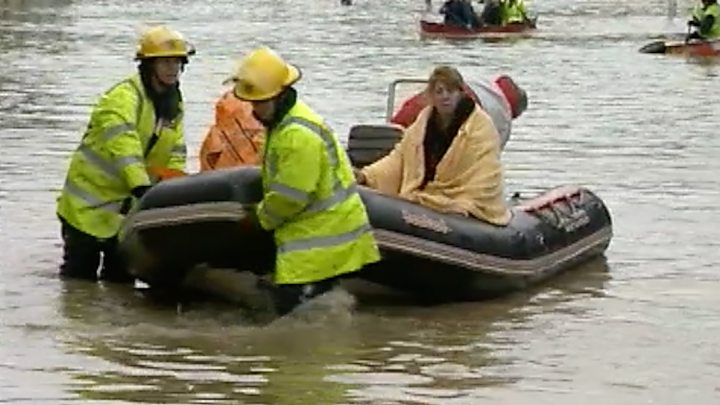 Mr Reilly said £12m had been spent on defences over the past 20 years.
Alan Hames, the NFPA's engineering consultant, said "the existing situation will lead to another flood if we get a similar storm".
Mr Hames, an engineer who spent 36 years working for Northampton Borough Council and Northamptonshire County Council, said: "Whatever has been done to date by the Environment Agency will not mitigate that in any way.
"It will just store more water within the town."
He said the discharge of water from Northampton had not been sufficient since the number of sluice gates in the town was reduced from eight to four earlier in the 1980s.
"If the sluices aren't there all it can do is back-up into the town," he added.
Mr Hames said development on flood plains was a "serious contributor" to flooding.
On Maundy Thursday 1998, more than 75mm (3.9in) of rain fell on parts of Northamptonshire - well over the monthly average of 49mm (1.9in).
A day later on Good Friday, the county received a month's worth of rain in 24 hours.
Frances Fisher, who was 82, drowned in her flat in St James. At South Bridge, another woman died when she was swept off her narrowboat.
An investigation into the Easter 1998 floods found many storm drains were blocked with rubbish or overgrown.
Mr Reilly said Northampton's flood defences were now "far better" than the rest of the country.
He said the defences would, on average, contain all but a one-in-200-year storm in Northampton.
"We cannot completely defend against the risk though," he said.
"There are no guarantees."