Northamptonshire libraries in legal action against closure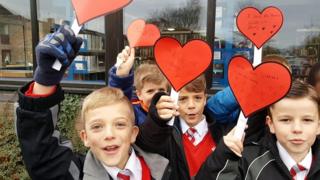 Twenty-one libraries threatened with closure have lodged legal actions against a decision that would see them lose funding.
In February, Northamptonshire County Council voted through the closures as part of £40m of budget cuts.
Two separate legal actions have been lodged questioning the validity of the authority's consultation.
A council spokesman said the authority would be defending the legal challenges.
Law firm Watkins & Gunn, acting for 20 of the under-threat libraries, lodged an application for a judicial review on Friday.
A separate legal action has been made by Desborough Library.
A government inspection has already been launched into the closures.
The council decided to close the 21 libraries as part of budget cuts for 2018/19.
Northamptonshire would maintain eight large and seven medium-sized libraries.
The authority held a library review as part of its budget setting process, but decided to shelve proposed closures for a year.
That decision was reversed after auditor KPMG issued a legal warning saying the budget was unlawful.
'Vulnerable people'
Michael Imperato, from Watkins & Gunn, questioned how "vulnerable people, whether elderly, children or disabled, would access libraries" if the cuts went ahead.
He said any judicial review could take place "in a matter of weeks or a month or two".
If the council's plans go ahead library funding would cease in August.
Last month, Secretary of State for Local Government Sajid Javid, agreed with a report recommending commissioners should be sent into the authority.
The report suggested the council should be scrapped in favour of two new unitary authorities.
The council said its library service review "took account of value for money, usage rates and geographical coverage".