Raunds henge 'discovered' by Warth Park building work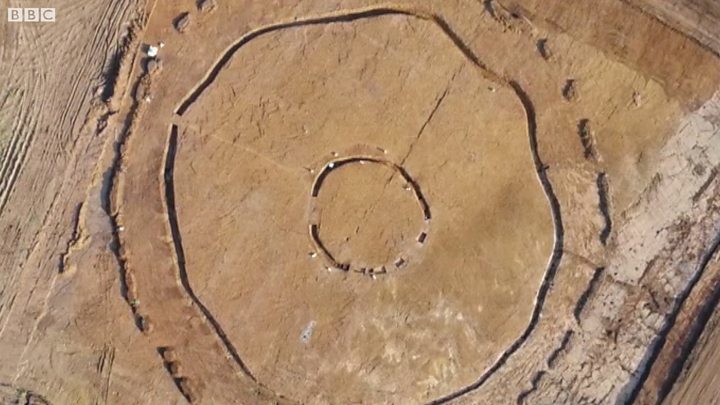 An archaeological site thought to be 4,000 years old has been fully unearthed by work to extend an industrial estate.
Builders have uncovered the henge, which is 100m (330ft) in diameter, at Warth Park in Raunds, Northamptonshire.
An aerial photo showing the scale of the Neolithic monument first emerged on Twitter on Tuesday, but was deleted.
However, archaeologists say that site, known as Cotton Henge, has previously been investigated twice before.
Oxford Archaeology East, working on behalf of developer Roxhill, said the henge was first identified by aerial photography in the 1970s.
They added that it was likely to date from the late Neolithic period (circa 3000BC -2500BC) and forms part of a larger group of ceremonial landscape features located and excavated as part of the Raunds Area Project.
'Not a new discovery'
The current archaeological work is the first time the henge has been uncovered in full.
But Matthew Nicholas, Historic England's science advisor for the East Midlands, tempered excitement by saying it was "not a new discovery".
He said the monument "was studied carefully in the 1980s and 90s, but there were still some unanswered questions about its function".
Excavations are planned to continue for a few more weeks, with a report to be issued to Northamptonshire County Council's archaeological advisor for approval.
---
What is a henge?
A henge is a prehistoric monument consisting of a circle of stone or wooden uprights, with Stonehenge in Wiltshire one of the best-known examples.
Conventionally, a henge comprises of a a ditch with an external bank with one or more entranceways.
Cotton Henge is formed purely of two ditches which would originally have had associated external banks, it never contained any standing stones.
---