Northamptonshire County Council: Spending ban authority balances books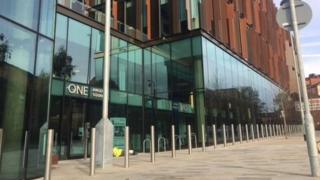 A cash-strapped council which had to impose a spending ban on itself has managed to balance its books.
Northamptonshire County Council imposed emergency spending controls in February, with its chief financial officer projecting a £21.1m overspend.
In March, the authority said a shortfall of £16.7m would have to be made up by using reserves. That figure has now been reduced to £12.7m.
Cabinet finance member Michael Clarke said the reserves would be replenished.
Mr Clarke said the spending ban, known as a Section 114 notice, had been a "drastic, but necessary brake" to slow down spending and balance the £416.8m budget for 2017/18.
A panel chaired by the authority's chief executive has been meeting three times a week since the notice had been put in place.
The authority had planned to balance its books through the sale of its new One Angel Square headquarters, which cost £53m and only opened in October last year.
'Serious action'
That sale was postponed and the council instead decided to use its reserves, however it has since been agreed the building will be sold to Canada Life Investments for £64m.
It had been anticipated almost all of the council's £17m of usable reserves and balances would have to be used, but further savings mean the amount needed to deliver a balanced budget has fallen to £12.7m.
Mr Clarke said "serious action had to be taken very late in the financial year".
"We will need to replenish our reserves and the challenges of the next few years are very clear," he added.
In March, an independent report commissioned by the then secretary of state Sajid Javid recommended the county council be scrapped.