M1 transporter driver not at fault over elderly couple's crash death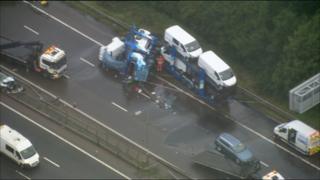 There was "nothing" the driver of a car transporter could have done to avoid a crash that killed an elderly couple, an inquest heard.
Maria Rossi, 80, also known as Olga, and her husband Dario Rossi, 85, died when the lorry crossed the central reservation into traffic on the M1 in Northamptonshire on 11 September.
It had suffered a burst tyre before its cab turned sideways and crushed the car of the couple from Dunmow in Essex.
A verdict of accidental death was made.
Northampton Coroner's Court heard the driver of the transporter, Martin Harrison, "heard a loud bang" as he travelled northbound between junctions 14 and 15 of the motorway.
He told the inquest he felt something "under his seat" and there was "no response" when he steered.
Mr Harrison, who had been driving lorries since 1975, concluded his tyre had blown out and began veering right, but despite his efforts to control the vehicle, it smashed through the central reservation.
When he realised the cab of his vehicle was going to tip, he turned his back to the windshield and braced in an attempt to protect his head and chest.
The crash happened at about 14:50 BST and the motorway was closed until about 04:50 the next day.
Senior coroner Anne Pember said "there was nothing Mr Harrison could have done to avoid the crash".
Relatives of Mr and Mrs Rossi shook the driver's hand as they left the hearing.
Son Michael Rossi said after the hearing: "We're so pleased we met the driver, that was our main thing. He was injured in the accident, he's still bearing his injuries but we bear no malice at all.
"He was a genuine guy going about his work and it's just unfortunate what happened that day."