Richard Coles warns of 'decaying' Northampton town centre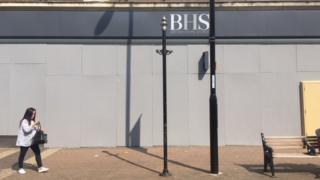 A "decaying" town centre risks losing "even more energy and prosperity", the Reverend Richard Coles has warned.
The BBC broadcaster, who grew up in Northampton, said it was already a "very thinned-out shopping area".
The town's Marks & Spencer store is earmarked for closure and the former BHS has been empty since 2016.
The Conservative deputy leader of Northampton Borough Council has admitted the authority does not know how to improve the town's fortunes.
Councillor Phil Larratt said: "M&S will be a great loss, but that won't be the end of it because Debenhams is on a knife-edge.
"Everything is changing so much and so quickly that we don't know what the answer is."
'Ghost town'
Rushden Lakes, a major out-out-town development 15 miles away, opened in July and free weekend parking in Northampton town centre came to an end this year.
Michella Dos Santos said she would shut her Magic Bean Emporium cafe in St Giles Street in the summer after a "huge decline" and she knew other small businesses which were thinking of doing the same.
She said: "It was definitely the opening of Rushden Lakes and then the added problem of no free parking definitely added coal to the fire."
Marks & Spencer announced proposed store closures last month, which included its Abington Street branch in Northampton, where there are 96 jobs.
The company said it was a "difficult decision" but that it was committed to its new Rushden Lakes branch, which offers a "better experience" for customers.
Mr Coles, a former member of pop group The Communards, BBC Radio Four presenter and Strictly Come Dancing celebrity contestant, hit out in a post on Twitter, in which he accused the retailer of "abandoning" Northampton.
He said the town centre was "decaying", prompting responses from his Twitter followers who described it as "almost a ghost town" and "increasingly hollowed out".
But the Finedon vicar, who is also the chancellor of the University of Northampton, said all was not lost.
"The university is opening a £330m new campus at the edge of the town centre which promises to bring much needed regeneration," he said.
"We have a great theatre, museums and civic buildings also."
Danielle Stone, leader of the Labour group on the Northampton Borough Council, blamed the drop in footfall on "de-pedestrianising Abington Street and allowing every application for betting shops, charity shops, pound shops, pawn brokers".
She called for new cycle routes, family bus passes and free parking.
Councillor Jonathan Nunn, Tory leader of Northampton Borough Council insisted changes in parking charges had not had a "significant impact" on footfall.
He said: "There are no plans to change the current approach on car parking charges, however we will continue to monitor the situation.
"We're working with the Northampton Town Centre Business Improvement District [BID] to support regular events and initiatives which help increase footfall and attract families into the town centre, such as the recent Street Circus and the Market Square beach in August."