Northampton litter problem 'an embarrassment'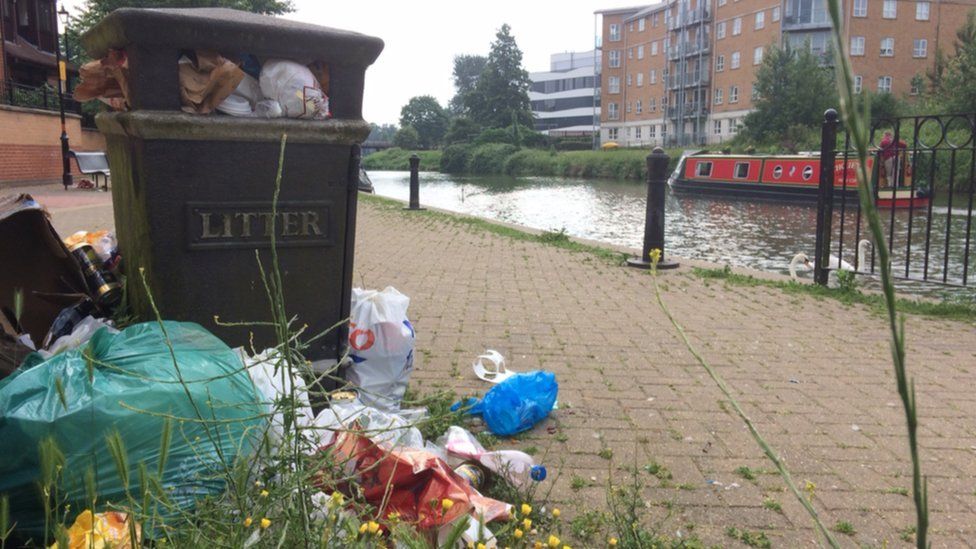 A town's litter problem has got so bad it has been called "an embarrassment" by the councillor in charge of waste.
People in Northampton have taken to Twitter to complain about full dog waste bins, rubbish-strewn parks and grass verges going uncut for months.
One user said it reminded him of post-apocalyptic horror film "I Am Legend".
Northampton Borough Council said a new environmental services company started work this week and had been given three months to "put things right".
Jamie Dunlop, who cycles to work every day along the canal, said: "Over the past few months it's just got progressively worse. Frankly, it's an embarrassment for the town. There's rubbish everywhere."
Lancelot Stead, who lives in Briar Hill, said: "There are six bins on this walkway and they are all full and two are completely overflowing.
"The lack of grass cutting down here is disgusting. Frankly, it's a screaming disgrace."
On Monday, Veolia took charge of the environmental services contract and will look after recycling, waste collections, street cleaning and grass cutting for the next 10 years.
Saul Huxley from partner firm ID Verde, which will manage parks, said: "The public perhaps haven't quite had the service they deserve and the council are fully aware of that.
"But they've resourced this properly and we've come up with a really robust plan to correct things."
Mike Hallam, cabinet member for environment at the Conservative-run council, said: "There are no excuses on this one.
"We were completely let down by our previous supplier as that contract was winding down and that was an embarrassment to everybody, really.
"But we've got a plan and and people will really see a difference. They've got three months to put things right".
A spokesman for Amey, the previous contractor, said: "We have no record of Northampton Borough Council contacting us about litter problems over the weekend. We would have aimed to get any problem addressed as soon as possible if we had been made aware.
"We worked hard to provide a high quality service for Northampton and its residents throughout the duration of the contract."
Related Internet Links
The BBC is not responsible for the content of external sites.