Carlsberg worker David Chandler died 'almost instantly'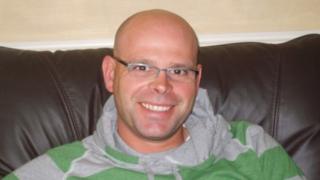 A Carlsberg brewery worker who died after an ammonia leak at the factory was killed "almost instantly", an inquest has heard.
David Chandler, 45, from Bridgnorth in Shropshire, had been working at the plant in Northampton on 9 November 2016 when the leak happened.
A further 22 people needed hospital treatment at the time.
Coroner Philip Barlow said there was "no dispute" to the fact Mr Chandler died "from the inhalation of ammonia".
He said the questions for the jury at Northamptonshire Coroner's Court, sitting at Northampton County Hall, was how that ammonia came to be discharged and how it could have been prevented.
The inquest heard Mr Chandler had been employed to remove a dormant compressor unit from the Carlsberg factory.
Mr Barlow said pipe work for the unit had previously been disconnected, but during an attempt to move it there was a release of ammonia gas.
"Three co-workers managed to escape, but Mr Chandler died," Mr Barlow said.
Mr Chandler had been working on an energy efficiency project led by a company called Crawley Carbon, part of which involved the removal of a compressor which had been unused for at least two years.
The inquest on Tuesday heard from Crawley Carbon's project manager Martin Northover and one of its refrigeration engineers, Sean Templeton.
Mr Northover said two engineers had been working on the compressor a week before the leak took place.
'Canary down the mine'
Part of that work involved them checking the safety of valves in the unit, which had been "isolated" two years previously to stop ammonia gas from being able to escape.
Mr Templeton said this was done by opening a flange in the system "by a fraction of a millimetre" to see if there was any ammonia gas in it.
Both Crawley Carbon employees said there hadn't been any ammonia in that part of the system.
Karl Hurst, representing Mr Chandler's family, questioned the safety of the operation by comparing the engineers working on the compressor to "a canary down the mine".
That comparison was dismissed by Mr Northover, who said engineers carry out such procedures in a controlled way every day.
The inquest, which is set to run until July 3, continues.