Future of 'iconic' Salcey Forest tree walk still unclear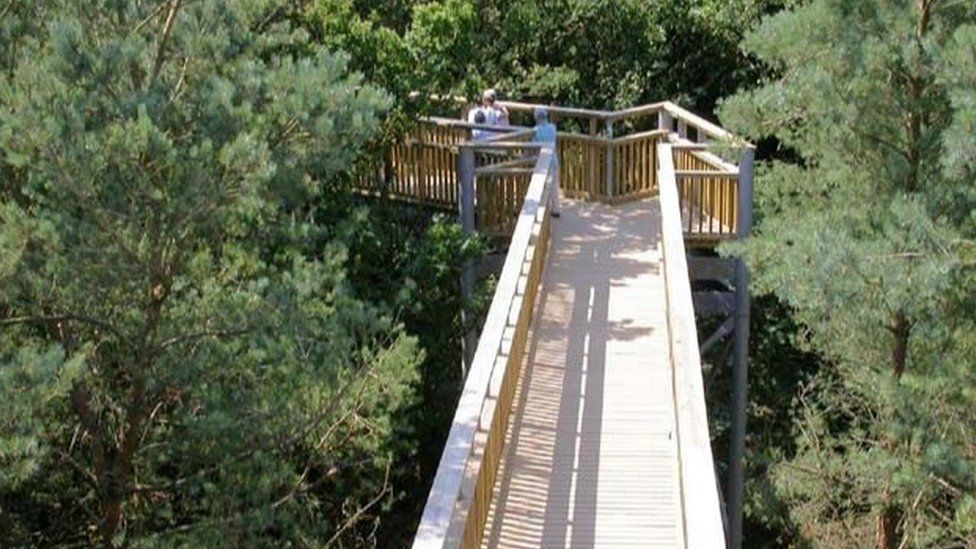 The future of a "well-loved" visitor attraction is still unclear, two months after it closed over safety concerns.
More than 32,000 people have signed a petition calling for Tree Top Way, a raised wooden platform at Salcey Forest, Northamptonshire, to be saved.
A routine inspection in May found potential structural problems and MP Andrea Leadsom has questioned whether it had been properly maintained.
The Forestry Commission said they were awaiting a report from surveyors.
The forest walkway, south of Northampton, rises to 15m (49ft) above the ground, with a crow's nest platform at 20m (66ft).
One comment on an online petition read "I work with wheelchair users who love this chance to get up high among the trees", while another described it as a "really beautiful, educational, fun, and unique attraction".
In a blog post, the Conservative MP, who represents South Northamptonshire, said: "I was deeply disappointed by the decision taken to close the walk, although I do understand the safety concerns that drove it.
"That said, it would have been sensible for Forest Enterprise England (FEE) to have considered reinvesting some of the money levied through car-parking charges at Salcey Forest in better maintaining the structure in recent years."
Speaking in May, recreation manager Andy Coggins had hoped a decision on the future of the "iconic" structure would be made "before the summer".
A spokeswoman from the Forestry Commission, which runs FEE, has today dismissed concerns about maintenance, saying the structure had been "regularly inspected", but she was unable to give any indication of when a decision about the attraction was likely to be made.
The walkway opened in 2005 and is believed to attract about 250,000 visitors a year.
Related Internet Links
The BBC is not responsible for the content of external sites.