Ex-Northampton Town FC owner 'was paid from council loan'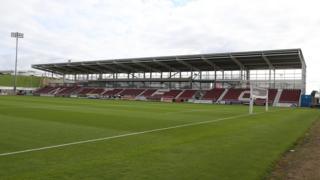 A former Northampton Town Football Club owner was paid a large sum from a council loan intended to rebuild its stadium, the High Court has heard.
Anthony Cardoza received payments totalling more than £2m from the development company contracted to carry out the work.
Mr Cardoza is being sued by Northampton Borough Council along with his son David and daughter-in-law Christina.
He denied in court knowing the money came from the council.
The council paid more than £10.25m to the club for the purposes of redeveloping its stadium and nearby land.
Sitting in Birmingham, the High Court heard most of the loan instalments were transferred by the club to a development company, 1st Land Ltd.
Mr Cardoza subsequently received three payments from 1st Land and one from another company in receipt of the loan money, County Oundle Ltd.
In total the payments between September 2013 and June 2014 came to £2.05m.
James Morgan QC, acting for the council, told Mr Cardoza: "It's an amazing coincidence. You knew it was money going round in circles."
Mr Cardoza said 1st Land's owner, Howard Grossman, was responsible for the payments.
"I wasn't involved in Mr Grossman's businesses to know what he was doing," he said.
Previously the court had heard Mr Grossman and Mr Cardoza had agreed to the payments at a meeting in Bordeaux in 2013 when the plan to redevelop the stadium was discussed.
Mr Cardoza said they were repayment of director's loans which he had made to the club over the years.
This is disputed by the council, which brought the proceedings to recover the £2m sum and is seeking a further £1m in damages and compensation.
The 10-day hearing continues.