Ex-Cobblers chairman's house transfer 'a promise not fraud'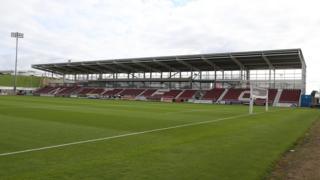 The wife of a former Northampton Town chairman has denied she and her husband transferred their house into her name to defraud creditors, a court heard.
Christina and David Cardoza are accused of carrying out the transfer to avoid the property being seized as an asset as the club faced financial issues.
The claim appears in a High Court case brought by Northampton Borough Council over its £10.25m loan to the Cobblers.
The council says the transfer breached the 1986 Insolvency Act.
It is seeking a declaration that David and Christina Cardoza defrauded creditors.
The authority wants to recover £2m of its loan to Northampton Town from Anthony Cardoza, David's father, plus £1m in damages.
Mr and Mrs Cardoza's house in Church Brampton, called Cheriton, was bought in 2003 for £795k.
In court papers, it is alleged the property was Mr Cordoza's only realistic source of finance when it was transferred to his wife in July 2015.
The council said the former chairman was disposing of his only significant asset available in the event claims were successfully brought against him.
Mrs Cardoza told the court her husband had made the promise back in 2008 to transfer the house "at a convenient time".
The couple said in their defence that the transfer was "a promise a husband had made to a wife and no more than that".
James Morgan QC, acting for the council, questioned why a previous statement had made no mention of the 2008 agreement and asked Mrs Cordoza if she and her husband had discussed the case.
She replied: "We hadn't spent time discussing some manufactured 2008 promise if that's what you're insisting.
Mrs Cordoza said she was living in Canada when she received a call to say the house was being seized.
"I was in a complete state of shock," she said.
"If I forgot something or didn't mention it - it's not because it didn't happen."
The hearing continues.