Northamptonshire healthcare systems 'not working well together'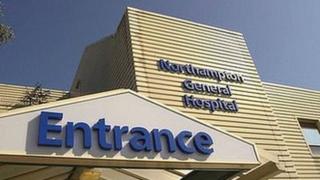 A county's social and health care systems do not work well enough together, according to a new report.
The Care Quality Commission (CQC) said services in Northamptonshire leave many older people in hospital instead of being cared for at home.
Prof Steve Field, from the CQC, said that "while there is an intent" to improve how people move though services, the reality was "variable".
The review was conducted in April, using feedback from across the county.
Among other findings, it said local health services are dealing with "poor relationships, financial constraints and issues of capacity".
It looked at working practises involving NHS hospitals, GPs, social care services and care homes in relation to older people.
The report stated that healthcare groups were not working together to use patient feedback in the development of strategy and services.
Prof Field, the CQC's chief inspector of general practice said: "If an older person was admitted to hospital, they were more likely to have longer hospital stays and people's experience of being discharged from hospital was not always timely or person-centred.
"There is a need for partners to take this important work forward at pace so that older people are seen and cared for at the right place at the right time by the right people."
System leaders agreed more could be done in terms of public engagement.
Healthwatch Northamptonshire, a representative body for patients, said people were sometimes having plans imposed on them rather than any real consultation taking place and it cited the example of the stroke pathway, which it said had been developed without any engagement with the Stroke Association.
The report said in order to improve, health and social care leaders in the county "must work together to strengthen relationships" and reduce numbers of avoidable admissions from care homes by increasing coverage of GP and pharmacy input into care homes.