Northamptonshire County Council: New chief executive named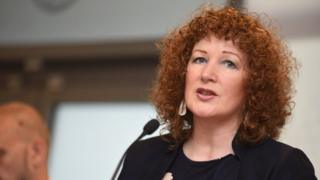 A council dubbed "the worst-run in the country" after it ran out of money has named a new chief executive.
Theresa Grant is due to take charge of Northamptonshire County Council at the end of July on a two-year contract.
The authority is expected to be replaced with a new, unitary council in 2020 and will continue to be overseen by two government commissioners.
Leader Matt Golby said Ms Grant, who joins from Trafford Council, was a "distinguished chief executive".
He said: "We have selected a preferred candidate who I have no doubt has the experience, skills, leadership and expertise which we require here in Northamptonshire."
Her appointment is expected to be formalised at a full meeting of the Conservative-run council next Thursday.
'Tumultuous time'
It follows the resignation of interim chief executive Andrew Quincey, who took up his post in April after the resignation of previous interim Damon Lawrenson.
Chief finance officer Mark McLaughlin also handed in his resignation this month.
Mr Golby thanked both officers for their work in this "tumultuous time" and revealed they would not receive settlement payments.
Northamptonshire County Council was forced to ban all new spending in February because of "severe financial challenges" and Kettering MP Philip Hollobone said it had become "the worst run in the country".
In March, leader Heather Smith resigned after a government report recommended the council be scrapped.
The council recently wrote to 3,400 employees asking if they would be interested in voluntary redundancy, and is considering the sale of its former Grade-II-listed home.