Northampton Town: Failed loan to club costs council £1.8m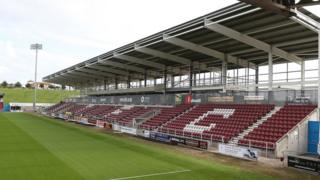 A council's bill for a "missing" £10m loan to Northampton Town FC has reached £1.8m.
Northampton Borough Council has been paying £20,000 a month in interest on the money it borrowed to enable the Cobblers to rebuild their stadium.
The BBC has found that so far it has paid more than £800,000 in interest over the past three years.
That is on top of more than £1m spent by the council in continuing legal fees, revealed by the BBC in April.
£100 per household
In nine weeks' time, the council will have to find an additional £1.5m to fund the first capital repayment on its public works loan from the government.
Under the loan contract, seen by the BBC, a further £6m in repayments are due within the next 10 months.
That would bring the total bill to £9.3m - the equivalent of just under £100 for every household in Northampton.
The Conservative-led borough council declined to comment on the spending until a High Court judge has made a judgement in a civil case.
It is seeking to recoup more than £3m from the former owners of the football club.
Danielle Stone, Labour leader on the council, called the figures in the latest BBC findings "shocking".
She said: "When I look at the accounts, it is not apparent where the repayments on the loan are.
"I am bothered by that lack of transparency. I am doubly shocked to find out what is really going on. This has never been reported to cabinet, the audit committee or full council."
A total of £10.25m was loaned to the club in a series of deals to fund rebuilding of the East Stand and development of land next to the stadium.
But within a year, in 2014, the construction company had walked off the job after its bills went unpaid.
Most of the money has disappeared in a company 1st Land Ltd which has gone into liquidation.
Three years ago the club stopped paying back the loan, leaving council tax payers with the bill, and the council hopes to recoup the loan cost by building on land next to the stadium.
A criminal investigation is ongoing. So far 26 people have been questioned under caution or arrested.