Dylan Tiffin-Brown: Northampton father denies killing his 'little bestie'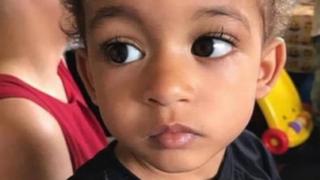 A father accused of murdering his two-year-old son has told a court he was never violent with his "little bestie".
Dylan Tiffin-Brown was found unresponsive at a property on Arthur Street, Northampton, on 15 December.
He had been in the sole care of his father Raphael Kennedy, 31, of Northampton, who denies murder.
Mr Kennedy told Northampton Crown Court that when he first met Dylan he "fell in love with him so fast".
"He was my little bestie," he added.
He admitted he made his living dealing crack cocaine and heroin, and that he was dealing the night before, and the morning of, Dylan's death.
As he dealt the Class A drugs, Dylan was asleep in bed, the court heard.
Mr Kennedy was asked if he had ever been "violent with him".
He replied: "Never in my life."
The court had earlier heard that the toddler had suffered 39 injuries to his head, face, neck, torso and limbs.
When an ambulance was called at 12:32 GMT, an operator was told by Mr Kennedy that Dylan was "floppy, unresponsive and not breathing", jurors heard.
Prosecutor Jonas Hankin QC told the jury Dylan was rushed to Northampton General Hospital "but could not be revived, and he was declared dead at 13:05".
The post-mortem examination also revealed at least 15 rib fractures which suggested, the prosecution said, "sustained multiple episodes of abusive trauma".
The toddler's injuries were inflicted by a "thin straight object such as a rod or electrical cord", the court heard.
The severity of the blows would have meant Dylan was in extreme pain, and would have been unable to stand or walk.
The trial continues.